Two Courses Were Selected Online Courses of the Sino-Thailand Vocational Education Union in 2019.
On May 14, the 2019 Meeting of China-Thailand Vocational Education Union and the online course construction exchange meeting of China-Thailand Higher Vocational Education were held in Chongqing Vocational Institute of Engineering. Lyv Hong, director of the International Cooperation and Exchange Center of CCMC attended the meeting.
Deng Rui, deputy director of Chongqing Education Committee, Zhan YaPabu, official of Thai Ministry of Education, Tang Yong, secretary-general of Chongqing China Vocational Education Press , Liu Yunsheng, president of Chongqing Education Evaluation Institute, Hu Lin, expert of online course platform construction and promotion, and Dong Xiaoping, expert of online course construction certification, attended the meeting. Leaders and representatives of over 40 institutions from China and Thailand attended the meeting.
At the meeting, the Sino-Thai Vocational Education Union released the list of online courses. Both Song Lunbin's and Yin Kaiming 's courses were selected online courses.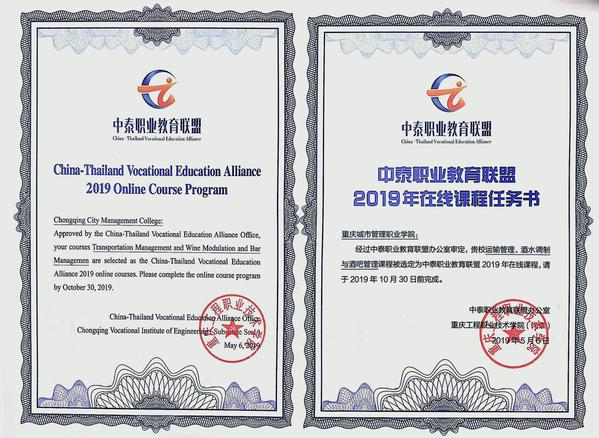 It was reported that in the next three years, the Chinese members of the Sino-Thai Vocational Education Alliance would complete 100 online and offline courses construction and certification.